Join Us to Celebrate the 100th Anniversary of the National Park Service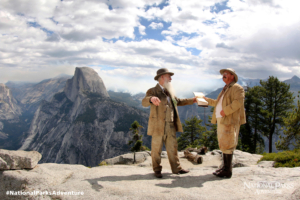 Discover the importance of our National Parks and the role they play in the ability of the public to experience the wonders of nature with the viewing of the National Parks Adventure IMAX film, narrated by Robert Redford.
Open to the Public
Get your free ticket HERE
Honored Guests
Congresswoman Susan Davis
Andrea Compton, Superintendent of Cabrillo National Monument
Susana Reyes, Sierra Club Board of Directors and Secretary
Tom Steyer, Environmentalist and Philanthropist
Thursday, August 25, 2016
Reception with no-host bar 6:30 pm – 8:00 pm
Film 8:00 pm – 9 pm
Reuben H. Fleet Science Center
Balboa Park, San Diego
Attendance is Limited – RSVP Required
Get your free ticket HERE
Inspiring Connections Outdoors (ICO) Parks4Kids Program
San Diego ICO is an all-volunteer program of the Sierra Club dedicated to providing outdoor experiences to low-income youth who would not otherwise have the opportunity to actively engage in nature. San Diego ICO has created a fundraising page in the Parks4Kids Program, which is sponsored by The Outdoor Foundation. It operates a bit like a GoFundMe page (but Parks4Kids does not take any of the amount donated). San Diego is seeking $7,500 to provide funding for 30 hiking and 5 camping trips during June 2016 – May 2017. Make a tax-deductible donation HERE.
********************
HiSierran Newsletter Online – Click HERE
Visit the Sierra Club Store for great prices on backpacks, bags, caps and other great items.

Click here to get a free solar evaluation.
Reduce your state's carbon emissions by the equivalent of taking your car off the road for 20 years, simply by going solar
Send funds back to your local Sierra Club chapter by going solar with Sungevity
Be a model of clean-energy living for your community
Join Sierra Club San Diego on an outing – where do you want to go? The choice is yours!
Click edit button to change this text.