Viewing Guidelines
The Seals of Casa Beach and the Sea Lions of Point La Jolla are wild animals living in their natural habitats. They are a unique natural treasure. Viewing them is about as close as you can get to marine mammals anywhere. The experience of watching them can be a positive, enriching and educational experience when conducted safely and responsibly.
The federal Marine Mammal Protection Act as well as California and City ordinances protect seals and sea lions from being disturbed and harassed by visitors. Harassment is defined by the MMPA as "any act of pursuit, torment or annoyance which has the potential to injure a marine mammal in the wild, or to disturb a marine mammal by causing disruption of behavioral patterns, which includes, but is not limited to, migration, breathing, nursing, breeding, feeding, or sheltering". This would include any behaviour disturbing their resting/sheltering after long periods fishing at sea, inhibiting their movements (mothers and young reuniting for example) or any behaviour leading to growling, barking, biting, moving away from you due to fear or toward you aggressively.
Always stay at least 50 ft away from seals and sea lions.

Watch quietly. Keep voices low – no shouting or screaming.

Move slowly. No jumping or running near the seals and sea lions. (There are adjacent beaches where children can run and play).

Never attempt to touch, pet, ride, or swim with seals or sea lions.

Do not take selfies with seals or sea lions.

Do not feed seals or sea lions.

Do not follow or chase seals or sea lions.

Give seals or sea lions space! Do not surround, corner them, or block their path.

Never throw sand, stones, bottles, balls or any other item at seals or sea lions.

Never bring dogs in proximity to seals and sea lions.

Always be respectful of the seals or sea lions and their habitats.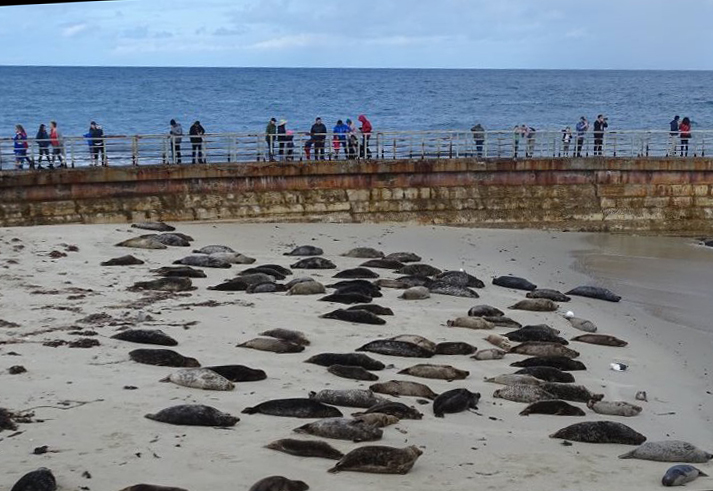 The best views of seals are from the sea wall at Casa Beach and the sidewalk. The best viewing of sea lions is on the sidewalk above the sea lions. If you watch from these sites, you should not disturb them or adversely affect their behavior.