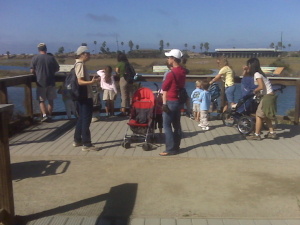 Family Section
The San Diego Sierra Club Family Committee organizes outdoor activities for families and needs YOU!
If interested, please join the Family Committee's meetup group (free) at meetup.com/SDSierraClubFamily. You can participate by coming along on family activities or helping to organize the Committee.
Most activities are led by Jennifer and are appropriate for small children (her own children are 3 and 5 years old) and generally fine for older children as well. Volunteers are needed to lead activities, especially for families with older children.
Recently activities have included visits to the Mission Trails Regional Park, San Elijo Lagoon in Cardiff, Miramar Lake in Scripps Ranch, Water Conservation Garden at Cuyamaca College, Torrey Pines State Park, and the Chula Vista Nature Center.
Let's meet like-minded parents and get out into nature with our kids!
For more information, contact the Committee Chair, Jennifer Douglas at jennifercdouglas@yahoo.com.