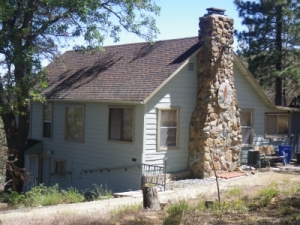 Lodge Closed Due to Fire Damage
The small cabin was destroyed in the Chariot fire. The water supply and power line were also damaged.
THEREFORE, THE CHAPTER HAS CLOSED THE MT. LAGUNA FACILITY AND DECLARED THE AREA "OFF LIMITS". ONLY THOSE PERSONS SPECIFICALLY AUTHORIZED ARE ALLOWED TO ENTER THE FACILITY AND GROUNDS. PERMISSION FOR ENTRY MUST BE OBTAINED BY CONTACTING RICHARD MILLER AT THE CHAPTER OFFICE, 858-569-6005 OR BY EMAIL AT richard.miller@sierraclub.org.
The Chapter asks that you please respect this decision. Your cooperation will help to protect the health and safety of our members and supporters and speed up the recovery process.
We are working with the Forest Service to get the utilities restored so we can open the lodge.  We are also planning to rebuild the cabin that was destroyed.
Contact Us
richard.miller@sierraclub.org or 858-569-6005.
Foster Lodge is owned by the Sierra Club and is operated by the San Diego Chapter.