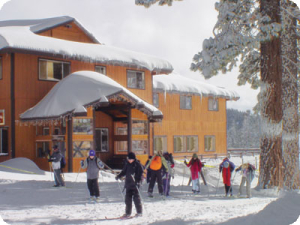 February 23 to 27, 2022, Thursday-Sunday, Montecito Sequoia Lodge
The spacious Montecito Sequoia Lodge, based at 7,500 foot elevation, provides a breathtaking view of the snow-capped peaks of the Great Western Divide and is set amid large and imposing fir and pine trees. Some of California's most scenic trails begin at the steps of the lodge. Coordinator: Monique Alkemade, monique_alkemade@yahoo.com.
The trip begins at the Lodge on Thursday morning, so please allow driving time in your schedule. Most of us will be driving directly to the Lodge on Wednesday. Chains must be carried and may be required to drive to the lodge. If the road is not fully cleared of snow, the lodge staff will escort vehicles at 5:00 p.m. each afternoon. Please plan on arriving at Grant Grove Village before 5:00 p.m. on Wednesday.
TRIP INCLUDES:
Four nights lodging (Wednesday-Saturday) and all meals.
Back-county ski touring with experienced Sierra Club leaders. If we have enough beginners, our leaders can teach you how to ski. If we only have a few beginners, the lodge offers instruction for a fee. Independent skiing is always available.
A donation to the Sierra Club.
Use of groomed ski tracks and hot tub.
NOT INCLUDED:
Transportation costs. Carpools are to be arranged independently, a participant list will be provided.
Park entrance fee
Ski rentals and lessons from lodge staff.
Lodging en route. It is recommended that you drive to the Lodge on Wednesday so you can join us when the trip begins on Thursday morning.
COST: $488 per person for double occupancy
All the rooms have private bath. Beds are 1 king bed or 1 king and one bunk bed in each room.
Contact Monique at (858) 922-7500 or monique_alkemade@yahoo.com and she will provide you with an address to send your deposit (payable to Sierra Club) to hold your spot.