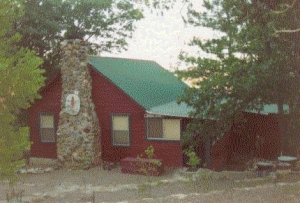 Brief History of Foster Lodge
The Foster Lodge is within the former Vallecitos Special Use Tract (1917) along the old trail from the Laguna Meadow to Monument Peak. In August 1927, the first and only lots were permitted to E.T. Guymon Sr. and E. T. "Ned" Guymon Jr who built two summer home cabins. The extension of the Sunrise Highway in 1936-37 severely affected the Vallecitos Tract and no more lots were permitted beyond the Guymon's. In 1951, Ned Guymon transferred the two cabins to the young San Diego Chapter (founded in 1948) which named the facility Guymon Lodge.
Chapter founder and Chair Loris Foster immediately set out to obtain a Forest Service permit that was issued in January 1952. The Chapter worked hard to add to the Mt. Laguna community by holding annual highway "clean-up" days and helped develop and maintain trails.
By the early 1960's the condition of the facility had seriously deteriorated, and use had dropped off due to poor plumbing and the general condition of the buildings. From 1964-66 the Chapter renovated the facility replacing the kitchen and bathrooms and made additions to both the lodge and cabin. In 1967, electric power was extended to the facility. In 1968, the Chapter built a small trail to a point just east of the Lodge and named the overlook Point Foster in honor of Chapter founders Loris and Ivy Foster.
In the 1970's the Sierra Club became involved with several lawsuits over development of the Laguna Mountains and the Forest Service's use of pesticides. Mr. Guymon did not like the political climate of the Club and asked to have his name removed from the facility. The Chapter then renamed the lodge after the Fosters.