Marching for Women's and Human Rights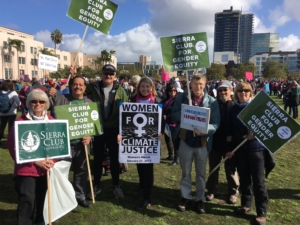 Hundreds of Chapter members and supporters joined with tens of thousands to march for women's rights, our safety, our health, our families and our communities.  The march was held the day after the inauguration of Donald Trump and signaled to the Trump administration that we are gravely concerned about the impacts of climate change and the implications of an Administration that promotes climate skepticism, advancement of fossil fuels, an extractive economy, racism, bigotry and sexist oppression.
***********************************
Resist, Recruit, Train, and Sustain
From the blog of Sierra Club Executive Director Michael Brune – November 18, 2016
Over the past ten days, we've had to accept a tough reality. But although it's definitely going to happen, a Trump administration will never seem normal, nor should it. We already know that the corrupt, cynical, and racist values that he and his inner circle bring to the White House will challenge everything we stand for.
As we move forward with a new Congress and this new administration, here are some early thoughts on how the Sierra Club will confront the reality of President-elect Trump.  Read more here.
10th ANNUAL WHALE WATCHING TRIP    
Sunday, February 19, 2017   9:00 AM – 12:00 Noon
  Adult $55.00   Child (6-13yrs) $30.00  
Join with fellow Sierra Club members and friends as we venture out to locate gray whales.  It is the height of the gray whale migration along our coast and your opportunity to see whales from afar and up close.  Past trips have seen as many as 15 whales.  You will also get to see other sea life such as sea lions, harbor seals, dolphins and some seabirds.  More…        Purchase tickets HERE
CST 2087766-40. Registration as a seller of travel does not constitute approval by the State of California.
HiSierran Newsletter Online – Click HERE
************************
Why Should You Donate to Sierra Club San Diego?

Visit the Sierra Club Store for great prices on backpacks, bags, caps and other great items.


Join Sierra Club San Diego on an outing – where do you want to go? The choice is yours!
Click edit button to change this text. Click edit button to change this text.