TAKE ACTION!
---
---
Nominations for Chapter Executive Committee
The Sierra Club San Diego Nominating Committee announced on September 11, its nominations for the Chapter Executive Committee. A total of ten candidates have been nominated for four positions.
There will be two elections running concurrently. Two candidates will be elected to one-year terms and two candidates will be elected to three-year terms.
The nominees are:
1 Year Terms (elect 2) – 6 candidates
Tommy Hough
Lisa Ross
John Harris
Rose Ryan
Evlyn Andrade-Heymsfield
Melanie Fontana
3 Year Terms (elect 2) – 4 candidates
Dan McAllister
David Rousseau
Joseph Bassett
Cody Petterson
Petition Candidates
Chapter members can also have their name placed on the ballot via the petition process. Petition candidates must collect the signatures of at least 25 Chapter members.
Deadline for submission of petitions is September 25. Petitions are available at the Chapter office.

The Chapter (and Group) Executive Committee ballot will be in the October-December 2019 edition of the HiSierran newsletter. All members of the Chapter will receive this next edition.
You can read the full Nominating Committee report here.
---
---
2018 Annual Report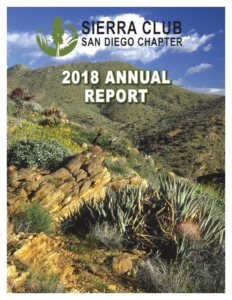 ---
---
Looking to get active? Want to help protect our natural world and communities?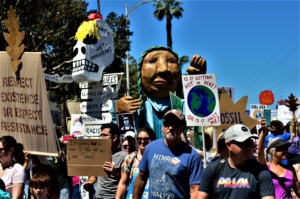 Let us help you find your perfect volunteer opportunity. Just fill out our volunteer form HERE and one of our Coordinators of Volunteers will get right back to you and get you going!
---
---
Get Involved: Join SANDAC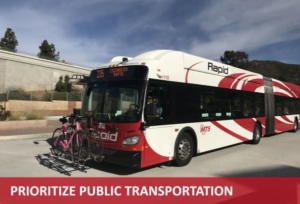 SANDAC (San Diego Activist Citizens) is a group of Sierra Club Volunteers who are looking to prioritze public transportation in the 2019 edition of the Regional Transportation Plan.
Are you interested in volunteering your time to be a part of this program?
Be part of the movement.

---
---
GET ACTIVE !
---
---
Congratulations to Bill Tayler and Bill Tayler, Jr!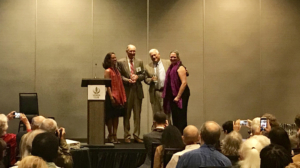 L-R: Lindi von Mutius, Sierra Club Chief of Staff; Bill Tayler; Bill Tayler, Jr.; Loren Blackford, Sierra Club President.
You might recognize the name Bill Tayler (the Jr) as the Chair of the Chapter's highly successful Inspiring Connections Outdoors (ICO) program.
Bill and Bill were recipients of the National Sierra Club's Special Service Award at the Clubs annual awards program on September 14 in Oakland, CA. The Special Service Award is presented to individuals for strong and consistent commitment to conservation or the Sierra Club over an extended period of time. The Taylers have jointly led more than 220 camping and hiking trips for children through the San Diego Chapter's Inspiring Connections Outdoors (ICO) program.
What a success story!
Photo courtesy of Brian Elliott
---
---
---
---
SUPPORT THE SIERRA CLUB!
---
---
Show Your Support for the Environment!
Make America Green Again ball cap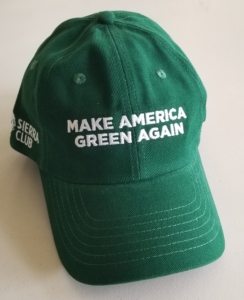 $15.00
100% cotton with adjustable closure and Sierra Club logo on side. One size fits all.
Looking for that special gift? Check out the Chapter's online store where you can find all sorts of great items for everyone in the family show your support for the Sierra Club at the same time.

Summer Clearance Sale – Month of September – Selected Items
Great prices on backpacks, bags, caps, water bottles, travel mugs, coloring books and more.
---
---
Help Support the San Diego Chapter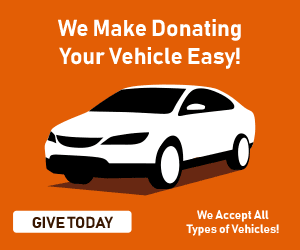 It's never a bad time to donate your car/boat/motorcycle and you may qualify for a tax deduction!.
---
---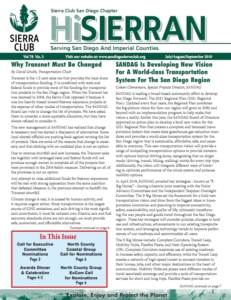 ---
---
Join Sierra Club San Diego on an outing – where do you want to go? The choice is yours!