Take our Membership Survey HERE.  

Your opinions are important to us.
---
---
---
---
Activist's Events and Resources
---
---
Are you ready to fight back in the 2018 election cycle?
Join your fellow Sierra Club activists for a training on how to engage in political campaigns and learn how you can help elect pro-environment candidates.
Building Political Power Training
When: Saturday, September 30, 2017, 10:00 AM -2:00 PM
Where: Kearny Mesa Recreation Center
3170 Armstrong St, San Diego, CA 92111
The training, co-hosted with the Sierra Club's national political team, will cover campaign strategy, organizing, and building our power to elect conversation champions. Please join us for this great day of training!
---
---
Looking to get active?  Want to help protect our natural world and communities?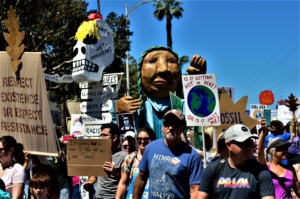 Let us help you find your perfect volunteer opportunity.  Just fill out our volunteer form HERE and one of our Coordinators of Volunteers will get right back to you and get you going!
---
---
QUARTERLY MEETING
Tuesday, October 10th from 7:00pm – 9:00pm
Panel Presentation : "Sea Level Rise – What to Expect"
---
---
Visit the Sierra Club Store for great prices on backpacks, bags, caps and other great items.
        
The Sierra Club National Parks Coloring Book  $ 11.00
Cooler Tote Bag $15.00
Wolf Tote Bag $7.00
HiSierran Newsletter Online – Click HERE
---
************************
Why Should You Donate to Sierra Club San Diego?

---
Marching for Women's and Human Rights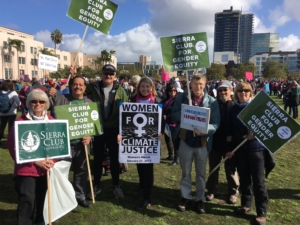 Hundreds of Chapter members and supporters joined with tens of thousands to march for women's rights, our safety, our health, our families and our communities.  The march was held the day after the inauguration of Donald Trump and signaled to the Trump administration that we are gravely concerned about the impacts of climate change and the implications of an Administration that promotes climate skepticism, advancement of fossil fuels, an extractive economy, racism, bigotry and sexist oppression.
---
Join Sierra Club San Diego on an outing – where do you want to go? The choice is yours!
Click edit button to change this code.