SIERRA CLUB ANNOUNCEMENT: DONALD TRUMP IS WRONG TO BAN TRANSGENDER PEOPLE FROM THE MILITARY
WASHINGTON, D.C. — On July 26, 2017, Donald Trump took to Twitter to announce his reversal of President Barack Obama's decision allowing transgender people to freely serve in the military.
In response, Sierra Club Executive Director Michael Brune released the following statement:
"This decision is an outrage. This country should and must be a home for transgender people just as much as it is a home for all of us. No matter your gender identity, every person deserves equal rights, including the right to serve in the military. Donald Trump is wrong to deny anyone the right to serve their country. The Sierra Club supports the rights of transgender veterans and those who are serving now."
Full Activities Calendar
Full Outings Calendar
---
Marching for Women's and Human Rights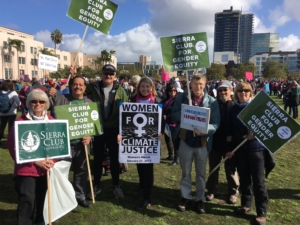 Hundreds of Chapter members and supporters joined with tens of thousands to march for women's rights, our safety, our health, our families and our communities.  The march was held the day after the inauguration of Donald Trump and signaled to the Trump administration that we are gravely concerned about the impacts of climate change and the implications of an Administration that promotes climate skepticism, advancement of fossil fuels, an extractive economy, racism, bigotry and sexist oppression.
---
---
Activist's Events and Resources
---
---
Looking to get active?  Want to help protect our natural world and communities?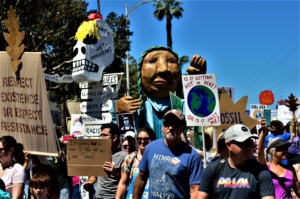 ACTIVIST'S ORIENTATION
Saturday July 29, 11 am – 12:30 pm
Thursday August 17, 6:30 pm – 8 pm
---
---
Let us help you find your perfect volunteer opportunity.  Just fill out our volunteer form HERE and one of our Coordinators of Volunteers will get right back to you and get you going!
---
---
---
INDIVISIBLE: A Practical Guide for Resisting the Trump Agenda
INDIVISIBLE: Una Guía Práctica para Resistar la Agenda de Trump
 Download the guide here (pdf)            Descargar la guía aqui pdf
---
---
Visit the Sierra Club Store for great prices on backpacks, bags, caps and other great items.
        
The Sierra Club National Parks Coloring Book  $ 11.00
Cooler Tote Bag $15.00
Wolf Tote Bag $7.00
Take our Membership Survey HERE.
Your opinions are important to us.
---
---
HiSierran Newsletter Online – Click HERE
---
************************
Why Should You Donate to Sierra Club San Diego?

Join Sierra Club San Diego on an outing – where do you want to go? The choice is yours!