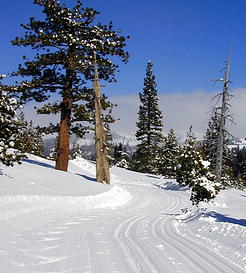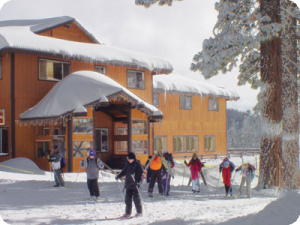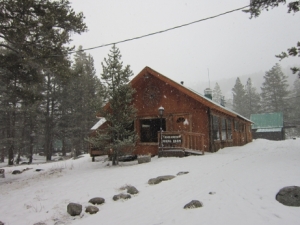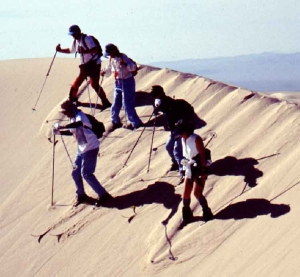 2017-2018 Ski Section Schedule
Hi Skiers, Being eternal optimists, we are planning ski trips for the coming season. The long range forecast is for normal precipitation in the west, and slightly higher than normal temperature. The long range forecast has been completely unreliable in the past few years: the weather has been totally opposite what was forecast.
So, we will plan a few historically reliable trips, and hope for the best. If the winter is more favorable, we can add more trips.
The most exciting announcement is Yosemite. It won't be a bus trip, but train and bus options are available.
If you want to join my email list, send an email to skisection@gmail.com. You will receive updates to the schedule, including local ski trips when we have local snow.
We had an excellent trip to Mammoth Thanksgiving weekend.  We filled the condo with 8 skiers, and the snow conditions were far better than I expected.  There was about 3 feet of packed powder at Minaret Vista on Thursday, and it was still good on Friday.  The track system at Tamarak Lodge was partially open and they were charging half price and using a van to shuttle skiers to the snow.
Here are the upcoming trips we have so far:
Dec 28-31, Thurs-Sun. Bear Valley.
Alice Fichandler (aliceandorbill@cox.net)
This trip has been a favorite for 20 years.  Bear Valley is between Yosemite and Lake Tahoe, and 500mi from SD.  It has 38 groomed XC trails (68km total), a downhill ski resort, and good backcountry skiing.  There are 3 restaurants in the village, but we will cook most of our meals in our condos.  We have two condos reserved. The cost is $250 per person for the condos.  Add the cost of carpool, food, ski rental, and trail fees.
Jan 17-21, Wed-Sun, Montecito-Sequoia Lodge.
Monique Alkemade (monique_alkemade@yahoo.com)
The lodge is reasonably priced, has great food, and excellent skiing.  4 nights at the lodge is $295 each, 3 to a room (3 beds).  2 to a room is $380 each. 3 meals each day are included.  Transportation is by carpool.  The lodge is 380 miles from San Diego, on the west side of the Sierra, and the driving time is about 6 1/2 hours.
Montecito Sequoia Lodge is a good place for beginners.  They have groomed tracks that are free for guests, and good rental skis.  Ski lessons are available for a small charge, and rental skis are included during the lesson.
Jan 31-Feb 4, Wed-Sun, Yosemite.
Monique Alkemade (monique_alkemade@yahoo.com)
This is the legendary ski trip we have done for nearly 30 years.  This trip is very similar to the bus trips we did in the past except it will be by carpool.
We have six rooms reserved at Yosemite Valley Lodge and we may be able to add more rooms if cancellations occur.  The first night we will stay at the Oakhurst Best Western then drive to Badger Pass in the morning for a full day of cross country skiing.  The next three nights will be at Yosemite Valley Lodge then we drive home on Sunday.
The trip cost is $400 per person​ for a double room, $280 per person for a triple room (two beds), plus food and carpool costs.  Amtrak serves Yosemite Valley via two trains and two buses and costs about $125 round trip.  The Amtrak option is less expensive than one person driving a car but a lot more than four people sharing a car.
If the snow is good, we would like to add a ski trips to Clair Tappaan Lodge.
Please send Mike Fry (skisection@gmail.com) suggestions for additional trips.
THINK SNOW!!!