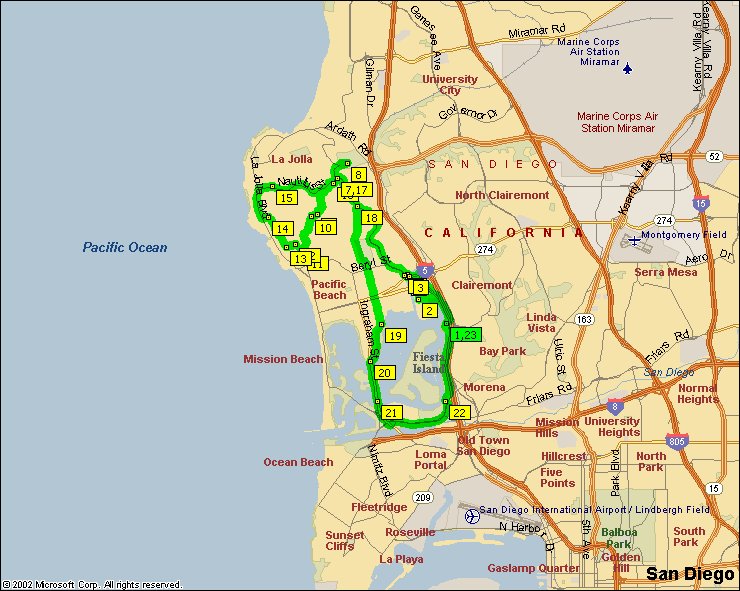 Care has been taken to ensure that all route information was accurate at the time of publication, but neither the authors nor the Sierra Club may be held legally responsible for any errors that may appear.
Mission Bay – Mt. Soledad
---
Exit parking lot Left onto East Mission Bay Dr.
Turn R onto Rose Creek Bike Path
Turn R sharply after Garnet Underpass
Turn R at Garnet to cross bridge
Turn R on Pico St and L on Felspar
Turn R on Soledad Mtn Rd.
Turn R on La Jolla Scenic Dr
Continue straight into Soledad Mtn. Park; REGROUP
Exit park onto La Jolla Scenic Dr
Turn R to stay on La Jolla Scenic Dr/Rutgers
Turn L on Mesa Dr
Turn R on Linda Rosa Ave; Head Count
Turn L on Forward and R on Waverly
Turn R into bike path and R on Nautilis St
Turn L on La Jolla Scenic Dr
Turn R on Soledad Mtn Rd; REGROUP
Turn R on Soledad Rd; becomes Lamont in PB
Turn R on Crown Pt Rd
Turn L on Ingraham St and cross Mission Bay bridges
Turn L on Perez Cove Way at Sea World
Cross road and get on sidewalk into boat landing park
Follow bike path to East Mission Bay Dr
Turn L on East Mission Bay Dr
Turn L into parking lot; END