I asked a few members of the Sierra Club San Diego to tell me about their experience at the 2018 Women's March. Approximately 1.6 million people participated in the March across the United States to celebrate women and to march for a number of issues that affect everyone nationwide! Over 37,000 participants attended the event in San Diego and roughly 4000 in North County at Palomar College. We would love to hear about your experience and what the march means for you. We welcome your comments below.
Karenlee Robinson, Sierra Club San Diego Steering Committee Member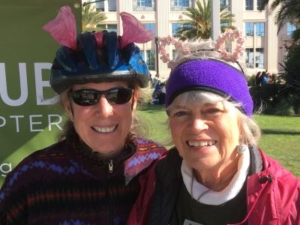 Arriving at 7 am at the County Administrative Center on the morning of the Women's March to set up the Sierra Club booth, my husband, Jay, and I worried that maybe not many people would attend the March this year. I feared that the publicity had not been as great nor as well orchestrated as last year. But as the morning progressed, slowly the crowd began to grow and then swell to fill the event area and then suddenly there was just a sea of people with signs galore. Most all of the signs were hand made with very personal, inspiring, creative and provocative messages. This definitely is a grass roots movement…you could just feel the energy in the crowd. One of the best signs was "Grab Them by the Midterms". As always the goal is to somehow transform that energy into continued activism. At the Sierra Club Booth over 100 people signed post cards to send to Ryan Zinke, Secretary of the Interior, protesting the planned reduction of National Parks and the opening those areas to mining and drilling. People also signed up wanting to volunteer with the Sierra Club expressing the need to "Do Something" to insure our environment is protected and that our planet survives the growing climate change crisis. In short the March exceeded all expectations! It provided needed encouragement and support…We are Not Alone!

Jody Stell, Sierra Club Member and Chapter Outing Leader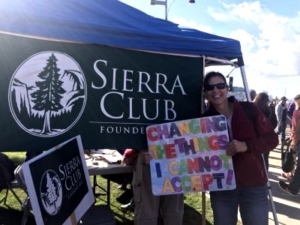 This past Saturday was my first experience doing a march and I was very glad to have participated. Two friends and I carpooled then walked to the Waterfront Park, where the areas was buzzing with activity – representatives from groups manned booths and met with participants, sharing their vision, looking for petition signatures, or just drumming up excitement for their cause. People running for office were shaking hands and educating constituents. Reading signs alone could entertain you for hours – from profound, deep famous quotes to hilarious satirical drawings.
After about one and a half hours of speeches from a variety of women and organizations, the actual March began. We held our signs up high and proud, chanted along with megaphoned leaders, and enjoyed drumming and other music from the sidelines. It was a crisp gorgeous puffy-cloud day and I was very honored and humbled to be living in a country where this type of freedom of expression is welcomed and celebrated.

Starla Rivers, Sierra Club Member and Activist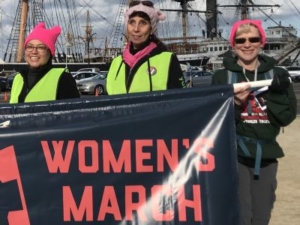 For me, the Women's March is about more than who sits in the White House. It is about environmental justice, reproductive justice, social justice and many other "justices" that are denied or abrogated under right wing regimes for women, people of color, immigrants, and worst of all – children. The individuals who scream the loudest about individual responsibility are among the first to deny individual rights. They want to classify families by color and gender rather than by love. They want to categorize children as either deserving (in utero) or undeserving (life long access to clean air and water, health care and education). They want to denigrate immigrants as rapists and murderers rather than welcome hard working people seeking what our immigrant ancestors sought – freedom and opportunity.
I find the women and men who participate in the March and other similar activist activities to generally be seekers of truth and compromise, believers in education and strong work ethics, supporters of law enforcement and military personnel, protectors of love and families, and caretakers of our Mother Earth. Celebrating accomplishments and setting goals with 37,000 other energetic and joyful people on January 20, 2018 gave me hope and commitment that I will carry into the November elections.

Cynthia Wootton, Sierra Club Conservation Committee Member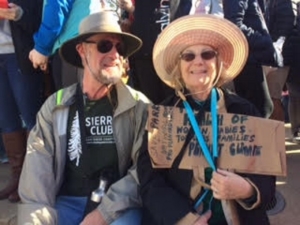 I feel deeply grateful to all the women, men, organizations, politicians, tribes and everyone who came to the Women's March this January 20 2018 and the last one. I worked for many years in a corporate environment where there was gossip and back biting between women, gender inequality and sexual harassment. For me, this march filled me with empowerment, strength, renewed vigor and hope. As one sign said "EMPOWERED WOMEN EMPOWER WOMEN."
The refrain of Muse song "Uprising" was sung by a local San Diego band The Resizters and seemed to fit the mood of the movement:
"They will not force us
They will stop degrading us
They will not control us
We will be victorious!"
There were women of all shapes, sizes, ages, colors, races. One sign said "DIVERSITY IS AMERICA'S SUPERPOWER." Everyone was there for one purpose as someone's sign said, "SOLIDARITY." Some had signs saying "I'M WITH HER." They had arrows pointing to all marchers around them, or of Star Wars Princess Leia, or of the earth, or the Statue of Liberty. Some faces were smiling and laughing, others were fierce. One sign said "PERSIST, RESIST, INSIST." There were no special outfits, everyone came only to share their commitment to each other, their determination to be the change, as a sign said "UNITED WE STAND." Men were here too to support our cause. One sign said "PEOPLE OF QUALITY DON'T FEAR EQUALITY." Some women brought their children and dogs. One sign said "UNITY, EQUALITY & JUSTICE FOR ALL" Although some faces looked tired, they continued to chant "TELL ME WHAT DEMOCRACY LOOKS LIKE? THIS IS WHAT DEMOCRACY LOOKS LIKE!"
There were many signs that expressed frustration with current government policies and commitment to help our planet earth, prevent climate change, support science and to change our government in the primaries and midterm elections this year.
Our movement needs a song the way "We shall overcome was the song of the sixties." Maybe it's the refrain by Muse I feel hopeful, as one sign said, "THERE IS A NEW DAY ON THE HORIZON".
Suzi Sandore, Sierra Club North County Section Executive Committee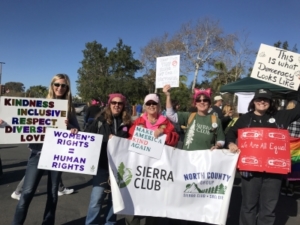 Being part of the Women's March in North County was amazing! It was great to see so many people of all ages and ethnic backgrounds coming together to have their voices heard.
We had a number of new and existing Sierra Club members join us at Palomar College for the March.
In addition to promoting women's rights, people were sharing their views on the current administration. We saw messaging on signs that were humorous in nature, some were angry and some were motivational. One of my favorite initiatives is "Turning Congress Blue". People were promoting the "Blue Wave" wearing blue gloves and blue ribbons to spread the word!
We look forward to having an even larger contingency for next year's March.