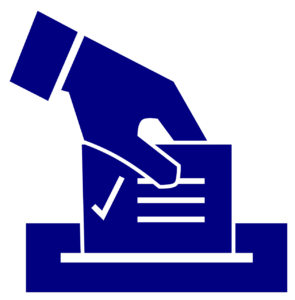 Do you want to vote in the next election?
Check your registration HERE!
Welcome
The Political Committee is a group of Sierra Club volunteers who share an interest in the political process and who recognize the importance of an informed voter public as a critical element in our efforts to protect our wild areas. Members work with candidates and issues to further the conservation efforts of Sierra Club. If you want to help, you can contact the Chair at brian.d.elliott@gmail.com.
Meetings
Meetings of the Political Committee are posted on our Activities Calendar on the Home page.  The Political Committee generally meets from 7:00 – 8:30 PM on the first Tuesday of each month in the Chapter Office.   The November date may be replaced by election-night activity.
How the Sierra Club's Endorsement Process Works
The Sierra Club leverages the power of our networks of volunteers and members to help elect environmental candidates. The Sierra Club sees the importance of having environmental champions at all levels of elected office.  To ensure the Sierra Club only endorses the best environmental candidates, our volunteers and staff have developed a multi-step process and criteria for selecting which candidates receive our support. Each of our endorsements are voted on by two committees made up of volunteers.  Volunteers examine each candidate's record and distribute questionnaires to all candidates to fill out. The questionnaire responses are then evaluated, and interviews with candidates are conducted.  Throughout our process, volunteers evaluate the environmental and public health records of candidates, their electability and their propensity to be a true champion on our issues.Sierra Club San Diego's tax exemption status – 501(c)(4) – allows us to make recommendations for candidates and ballot measures in the San Diego region.
2018 STATE LEGISLATORS REPORT CARD

Want to see how your state legislator voted?   
2018 Score Card
Paid for by Sierra Club Political Committee,www.sierraclub.org, and not authorized by any candidate or candidate's committee.